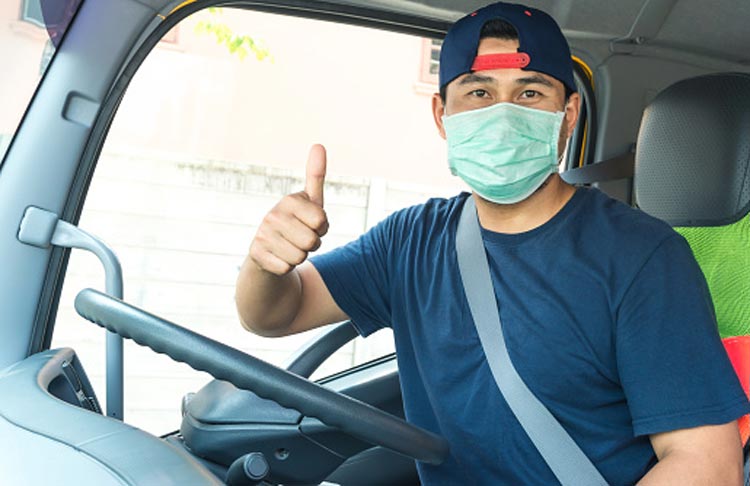 Resources for Truck Drivers During the COVID-19 Pandemic
As the world continues to grapple with the coronavirus pandemic and its after-effects, everyday life is changing. For commercial truck drivers, as well as commercial trucking insurance companies, however, careers are changing, as well.
Commercial truck drivers are among those who endanger their personal health the most to ensure that goods and products make it to their final destination. Right now, though, many commercial truck drivers are struggling while on the job and need additional assistance during the current economic downturn triggered by the COVID-19 health crisis.
Below, we will provide several great benefits for truck drivers to use to navigate life on the road during a global health pandemic. If you're a commercial trucker looking for additional assistance while on the job, continue reading below.
At SoCal Truck Insurance, we understand that this is a very uncertain period in the world. However, we could not be more proud to be able to provide affordable commercial truck insurance for all commercial trucking companies. Contact us today to receive a free quote, ask questions, and learn more about how we can help owner-operators like you.
Quick Tips for Drivers While on the Road
If you're a commercial trucker and you're looking for some great tips to help navigate life while on the road during COVID-19, check out a few tips below.
While freight is being loaded and unloaded, stay in your truck as much as possible to avoid potential exposure to COVID-19. If you have to get out of your truck, remember to maintain adequate social distancing of six feet and always use a face mask or face cover while communicating with others.

Try not to touch fuel pumps with your bare hands, as they are sometimes the dirtiest parts of a truck stop, and consider using gloves specifically for pumping gas instead. Additionally, try to reduce the number of times that you touch frequently touched items such as credit cards, pens, cups, clipboards, and door handles, with your bare hands.

Thoroughly washing your hands with soap is more efficient in eliminating germs and bacteria, but if you choose to use hand sanitizer, make sure it contains at least 60% alcohol.

If you find yourself continuously eating out at restaurants and fast food venues around the country, visit the official Franchise Association website for a list of discounts and other incentives to drivers at participating locations and transportation companies.
Experienced Driver Resources
Being ready is one of the most critical components of being a professional trucker. These trucker resources provide vital knowledge on the many aspects of the commercial trucking industry and can help you formulate additional questions for experienced truckers in the trucking industry.
Review some of the great resources for truckers below.
Truckstops and Rest Areas
The provision of rest stops, commercial parking, and public rest areas is vital to protecting highways and the flow of interstate commerce, and commercial truckers must have places to eat and rest. Since the beginning of the COVID-19 crisis, the American Trucking Association (ATA) has been working to ensure that public rest areas run by states remain available for commercial truck drivers.
Dining and Lodging
Although several states have banned indoor dining in restaurants during the COVID-19 pandemic, national food chains continue to offer pick-up service and several other incentives for truck drivers. Many hotels and lodging locations also provide discounted rates for drivers of semi-trucks.
Personal Protective Equipment
Hand Sanitizer
The ATA has collaborated with Protective Insurance Company to extend the availability and supply of hand sanitizer to commercial truck drivers and freight drivers, allowing drivers to refill their personal protective equipment supplies at no personal cost.
Masks
The Federal Motor Carrier Safety Administration (FMCSA) distributes one million protective masks to commercial truckers worldwide, and distribution locations and scheduled dates can be found on the official FMCSA website. Additionally, the ATA has also secured roughly 100,000 face coverings that are available to commercial truckers at no cost, as well, to ensure driver safety within the trucking industry.
The Life of a Truck Driver
If you enjoy traveling, the open road, freedom, flexibility, working outside the office, and don't mind being on your own, commercial trucking is a perfect job for you. Truck driving is a secure, satisfying career that will always be on-demand. Although life on the road isn't for everybody, commercial trucking can be a good career option if you are seeking to leave the daily office routine.
Working as a trucker, however, is more than just a profession. Although commercial trucking allows you to discover parts of the United States, including Canada and Mexico that most people never see, you should also expect to spend upwards of 300 days a year on the road.
Resources for Truck Drivers
Here is a collection of beneficial resources for commercial truck drivers.
Occupational Safety and Health Administration
The United States Department of Occupational Safety and Health Administration (OSHA) website has a range of free truck driver resources for you as a truck driver that offers knowledge and instruction on the prevention of occupational disease and injury while on the road in the United States.
American Trucking Association
The American Trucking Association (ATA) has been campaigning for truckers since 1933 and provides services of assistance and education and trucking news for commercial truckers.
Federal Motor Carrier Safety Administration
The United States Department of Labor Federal Motor Carrier Safety Administration (FMCSA) has many services and utilities for truckers, including commercial truck driving insurance and safety resources and more in the United States.
Women in Truck Driving
The Women In Trucking Association is a non-profit organization dedicated to the logistics and trucking industry and provides many networking activities, leadership seminars, job opportunities, and gender equity advocates for women in trucking.
SoCal Truck Insurance is Here to Help
As we continue to navigate life during the COVID-19 pandemic, it's crucial to recognize how important the commercial trucking industry is to our global supply chain. For those individuals who work as commercial truck and freight drivers, we hope this article provided quality truck driver resources for truckers to navigate life on the road more easily.
If you're a commercial trucking company looking for affordable and competitive commercial trucking insurance, SoCal Truck Insurance may be in a position to help.
With more than 25 years of experience in the commercial truck insurance industry, with SoCal Truck Insurance, you can be sure that we will always be there to meet all of your company's needs.
We recognize that every commercial trucking company is unique, which is why we remain committed to providing our customers, owner-operators, and the truck industry with the most affordable and customized commercial truck insurance policies on the market.
Contact us at SoCal Truck Insurance today to receive a free quote, ask questions, and learn more about how our commercial truck insurance services can help protect owner-operators such as yourself.