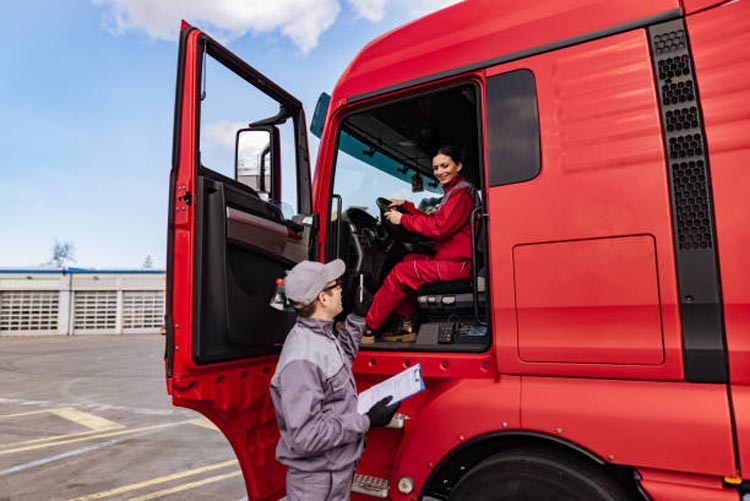 8 Signs If Commercial Truck Driving is Meant For You
Choosing a career path when insurance for commercial trucks is involved is one of the toughest decisions anyone will ever make in life, especially if you're going in the process blind. However, if you're fortunate enough, you may have a few signs in life that point you in the right direction.
The work as a commercial trucker is uniquely satisfying, but there are several other reasons to consider a career as a commercial trucker.
If you're thinking about a profession as a commercial trucker, here are seven signs that the trucking industry could be a great fit for you.
8 Truck Drivers Signs  You Were Meant to be One
Signs that you're made for the commercial trucking industry are everywhere. If you're looking for a job or want to make a career change, here are a few signs to pay attention to if you think commercial trucking is the right fit for you.
1. You're a Good Driver
First and foremost, if you're a good driver, then chances are you would make a good commercial trucker.
When you become a commercial trucker, you sign up to drive on a regular basis, meaning not only will you be traveling on a daily basis, but you will also be behind the wheel of an 18-wheeler containing loads of fragile components.
In order for a commercial trucking profession to be a successful career choice for you, you need to be comfortable with the obligation to drive safely with the precious cargo attached to your vehicle.
2. You Prefer to Work Alone
Commercial truckers tend to spend a lot of moments alone while on the road, so if you enjoy being alone for the majority of your life on the road, then you may want to consider applying to be a driver.
Although there are opportunities for team driving, truckers will mostly drive on their own. The average day is just you, your truck, and the road.
The good news is that this gives you plenty of time to listen to music, podcasts, or anything else you enjoy listening to while driving, making it a dream profession for someone who performs well on an individual basis.
3. You Don't Mind Constant Change
One of the greatest benefits of driving a commercial truck is that no two days are the same.
As a skilled commercial driver, you're going to spend much of your life on the road, meaning plenty of opportunities to take in all the beautiful scenery around you and constantly meeting new people.
Additionally, every day on the job is going to be different, filled with new stories and perspectives, something you won't get at a normal office job.
4. You Want a Career with Growth Opportunities
A commercial trucker has the opportunity to grow and learn throughout their career, which makes it a perfect job opportunity for someone looking to progress in their profession.
There's no reason why you can't make $45,000 in your first year, in addition to potential bonuses during the same year, and with current job shortages, that number is only going to increase over time.
Furthermore, as many of the current drivers are getting closer to retirement, the trucking industry is also expecting an even greater need for drivers in the near future, meaning a career as a trucker has a stable earnings potential with growth on the horizon.
5. You Want a Career with Stable Income
Commercial truckers are a key part of any stable economy.
As a trucker, you are responsible for moving vital goods across the country from food to medical supplies.
Because of the importance of this job, you can expect a stable career that is not only unlikely to disappear but also pays well and offers plenty of bonuses to truckers who maximize their fuel efficiency and delivery schedules.
6. You Want to Make a Difference and career change for truck driver is not an option
The U.S. would not be the country it is today without a supply chain, and commercial drivers are a critical component of such.
Commercial drivers affect the flow of the entire country, which means it's more critical than ever that America has truck drivers today.
Truck drivers are the backbone of America because they transport the goods that keep the country moving, so if you want a job that truly makes a difference, then commercial trucking is the career for you.
7. You Want a Career with Freedom
There aren't many other careers that allow as much personal freedom as much as commercial trucking.
As a commercial trucker, you will never have to worry about spending endless amounts of hours staring at a computer screen or at the same four walls in an office cubicle ever again.
While a steady career that requires you to sit for eight hours a day may be ideal for everyone, but if you dislike the idea of doing so, a trucking job may be more interesting.
8. College Isn't for You and cannot think of alternative careers for truck drivers
Getting a four-year college degree in school isn't necessarily a priority for everyone, and that's okay.
Luckily, acquiring a truck driver's license only requires a brief and inexpensive apprenticeship and a few certification truck driving school courses.
If traditional schooling isn't fitted for you, you may find commercial trucking might be a great alternative.
Start Your Commercial Trucking Career with SoCal Truck Insurance
The commercial truck industry isn't meant for everyone, and that's okay. However, if you think and know that a job as a commercial trucker is something you're meant to do, you have a unique journey in front of you.
If you're starting a trucking career and are looking for insurance for truck drivers, we can help you and offer you the best coverages.
We understand that the life of a commercial truck driver is unique, which is why we have developed a reliable insurance program designed to meet your specific needs.
With more than 25 years of experience, SoCal Truck Insurance is committed to providing customers with the most affordable commercial truck insurance policies in the market, and we are proud to offer those options for any type of commercial trucking business.
For a free commercial truck insurance quote, contact us at SoCal Truck Insurance today.