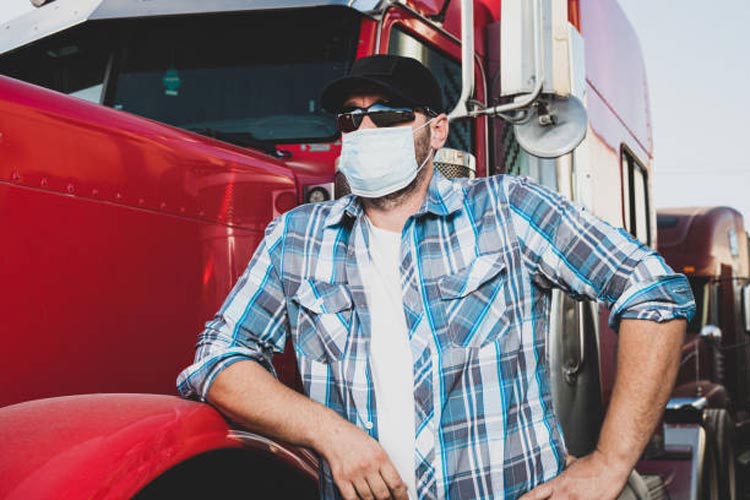 The Impact of COVID-19 on Truck Drivers
Since the onset of the pandemic in early 2020, the nation's response to the Coronavirus has drastically changed the way people live their lives. This made a huge impact on trucking; and while many non-essential workers stay at home, people in the logistics industry provide essential service and continue to operate in the new normal. Therefore, getting a commercial truck insurance is essential.
The pandemic was a surprise that very quickly and drastically changed the way things operate.   Despite continuous operations, the transportation industry, particularly the heavy-duty trucking business, still struggles to maintain a safe and healthy environment for their drivers on and off the road.
With the increasing demand for logistics services and the high risk of contracting COVID-19 while on the job, there's a shortage of drivers in the market, creating a problem for American trucking overall.
Whether you're a truck driver looking to protect yourself and ensure safety at work or you're a business owner in the logistics industry, here are some insights on how the spread of the COVID-19 pandemic impacts the truckers today that you need to know about.
How Covid-19 Affects Truck Drivers
Increased Demand For Logistics Workers
Trucking has always been an essential service. Trucking companies make sure that goods get to people. Hence the entire consumer industry relies on a continuously moving supply chain that is heavily dependent on the trucking industry.
Especially in this time of crisis, supply chains of medical equipment, masks, and PPEs are heavily dependent on trucking operations. Truckers have become front-liners who directly provide emergency relief to distribution centers to aid disease control and help mitigate the COVID-19 Outbreak.
Not to mention, most people are now staying indoors. This has rapidly increased the number of virtual transactions.
Whereas transportation was vital to mostly eCommerce businesses before, now, even essential goods rely heavily on the freight market to reach end consumers. Freight operations have become indispensable to grocery chains and business operations more so today than before.
This spike in freight demand all across the country has challenged trucking companies who found it difficult to hire workers at such a problematic time. It has been particularly tough for them to recruit drivers who are willing to do long haul trips with extended hours of service.
Risk Of Contracting COVID-19
Though the demand for truckers exploded, not many drivers are taking on the job due to several risk factors, particularly, risk of contracting COVID-19.
As a truck driver, one comes face-to-face or within 6 feet of several people, including truck stop attendants, store workers, dock workers, and other truckers, all in one drive. During pick-up, drop-off, border-crossing, and refueling, drivers are at risk of contracting the virus from any carrier.
Through handshaking or touching and handling frequently touched items while working, these drivers are also likely to contract coronavirus. Without implementing protocols and policies to help ensure the safety of drivers, the trucking industry is likely to suffer a shortage of drivers.
COVID-related health complications
Coronavirus is prone to causing serious complications in people with underlying medical conditions, the more common ones being Type 2 Diabetes, obesity, and smoking.
According to the Business & Human Rights Resource Centre, truckers in the United States are more prone to Obesity and Diabetes without the security of health insurance. Not to mention, more than half of truckers in the United States are smokers. This makes them doubly vulnerable to the virus.
Not only do these diseases make a person more likely to suffer complications when contracting COVID-19, the absence of comprehensive health insurance to make sure they receive proper treatment is a huge disadvantage for American truckers.
More Difficult Work Conditions
Apart from the health risks of being a trucker, driving during the pandemic is more challenging due to several other factors caused by the closing down of non-essential businesses.
Whereas long haul drivers used to be able to grab food, take a shower, and use the restroom in truck stops and designated rest areas before, now, they're pressed to find open businesses that serve as their rest area and buy supplies for the road.
And while the costs of owning a truck have stayed relatively the same, the load of work has decreased for many smaller-scale companies, resulting in lower revenue for many truckers. This, at a time when the cost of goods is rising, also poses a huge challenge on drivers and contributes to the driver shortage trucking experiences.
Plummeting Pay
With non-essential businesses ceasing operations and many companies closing down, plenty of business activities were halted, and depending on the industry, many transportation companies are receiving less business. This trickles down to less load and lower pay per load for their truckers.
In April 2020, a survey conducted by WorkHound found that over 25% of truckers felt they deserved better compensation. With the increased dangers that come with the job, truckers were not even receiving hazard pay and many of them felt that they were unappreciated for the amount of work they did.
Dangers of Getting Stranded
Another concern truckers are facing is the possibility of being stranded while on the job. Many truckers do and cross-country trips; this not only exposes them to a higher risk of contracting coronavirus, but it also subjects them to rapidly changing health and safety protocols.
Some truckers experience being stuck in another state either because they tested positive for COVID-19 and have to isolate themselves while in that location or the state has an emergency declaration and they were unable to get back home for the duration of the lockdown.
These cases make long-haul drives an unattractive job that many refuse to take.
Lack of support from trucking companies
In times of crisis, workers want to know they have support. Working for companies is only as good as knowing they have your back.
This is the single greatest concern of most truckers according to the research by WorkHound. Many of them cite the importance of their companies providing direct assistance either through hazard pay, health support, or insurance.
Safety Measures for Truck Drivers and Trucking Industry During COVID-19
Since the pandemic started, trucking companies have been developing policies and support systems to prevent the spread of the disease and to protect those who contract the virus.
Many of them even avail commercial trucking insurance to protect truckers, their businesses, and their clients' cargos.
If you need tips on how to handle the COVID-19 pandemic, check out our article about the importance of a contingency plan during the COVID-19 pandemic.
Find out the best commercial trucking insurance policy for you! Get a free commercial truck insurance quote.  Contact us at SoCal Truck Insurance today.