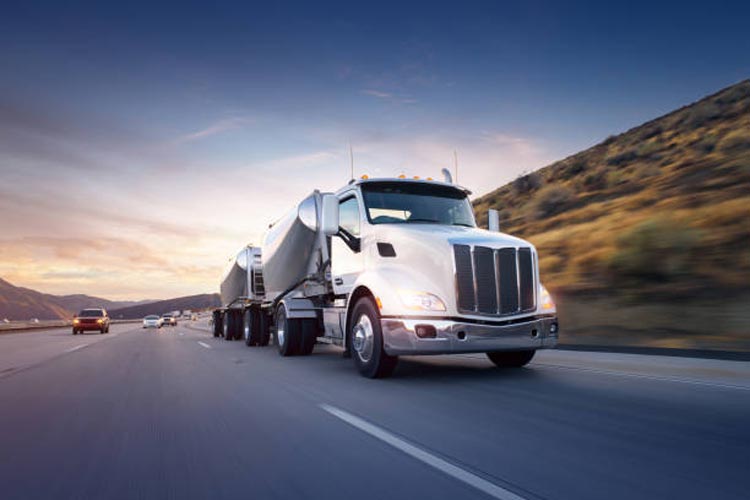 COVID-19 Pandemic's Impact on Trucking Companies
Coronavirus (COVID-19) and the government's response are rapidly altering the day-to-day realities of commercial truck businesses and commercial trucking insurance companies all over the country. 
While drivers strive to maintain their health on the road and businesses aim to maintain their commercial truck insurance quote requirements, the transportation industry continues to face several challenges. COVID-19 has impacted nearly every aspect of people's lives, so it's no surprise that the commercial trucking industry has also been affected by the pandemic.
In this article, we will provide you with a broad overview of the changes that have occurred in the aftermath of the recent health pandemic, as well as the ongoing efforts that the commercial trucking industry is making to respond appropriately.
The Long-Term Effects of COVID-19 on Trucking Companies
While many experts hail these changes as a "new normal," it's important to keep in mind that a recession is on the horizon. If countries implement secondary lockdowns as the second wave of COVID-19 arrives, freight will be disrupted.
If this is the case, the trucking industry will eventually recover, but the time frame for this recovery will be determined by how long the virus takes to peak and how long the recession lasts.
COVID-19 has altered how the transportation industry is perceived as well as how it is used. A long-term shift in mobility patterns could emerge after a successful vaccine and the lifting of all travel restrictions.
To avoid public transportation or shared modes of transportation, there may be an increase in the sale of private vehicles, scooters, motorcycles, and bicycles. Ridesharing services may not be used as frequently as they once were.
There will likely be a decrease in travel from the workplace to home and vice versa as more workers continue to work from home. Tourism, particularly trips planned by planes, may decline.
The transportation industry will have to adjust and plan for these potential long-term shifts while maintaining a network that transports essential freight and allows workers to travel. Maintaining sufficient capacity to allow workers to practice social distancing will be critical in moving to a long-term strategy.
Companies will also need to plan for key worker availability to ensure that there is always someone on staff with the critical skills and training required to keep networks running. This could entail developing a new skill set-based training program for key roles within the company.
What Your Commercial Trucking Company Can Do Next
Employees and stakeholders alike will be looking to the CEO for a response to the COVID-19 pandemic. The responses each company makes to the changes occurring in the transportation industry will determine its fate.
Anticipating Demand
This year, the coronavirus has had an impact on all types of travel in some way. Staying aware of rapid changes in restrictions, changes in traveler behavior, and ensuring supply chains remain operational will be critical to getting through this period.
What fleets can do to mitigate the effects of a potential second wave will be determined by the industries in which they operate. Professionals in the trucking industry have warned that in the face of increased demand, some companies might have difficulty in keeping their drivers busy, while others may be rushed off their feet.
Even if the recession hits, those in the grocery and refrigerated goods industries are unlikely to be affected. Those working in general freight may have fewer tons, route miles, and loads to transport. It's important to account for these changes. 
Keeping Drivers Busy 
Meanwhile, trucking companies should do everything they can to keep their drivers occupied. They should be fiscally responsible and cut costs where possible without sacrificing safety or service quality. Many companies will need to restock their supply chains on the other end of the pandemic, and they will need partners to help them do so.
If you own a trucking company or work in the transportation industry, get out there, network, talk to your customers, and figure out what they'll need once the outbreak is over. Even if business is slow right now, you must find a way to retain drivers in the immediate future so that your company does not end up with underutilized equipment and a driver shortage.
Maintain your business's viability while anticipating a drop in sales and revenues. We are on the verge of significant changes in both the global economy and the trucking industry. Surviving will be possible, but only with the right approach and strategic alliances.
Below are some crucial steps your business should consider taking to stay afloat during this crisis:
Calculate the cost and revenue implications of decreased ridership on a regular basis.
Protect essential personnel with appropriate protective equipment and training is a top priority.
Increase the number of workers available for mission-critical roles.
Work with government officials and leaders to ensure that all regulations, restrictions, and safety measures are followed.
Develop a contingency plan that includes a potential rapid surge in demand – the resumption of regular travel.
COVID-19's effects on the American transportation industry are not all negative. Some have had a positive impact and will continue to have an impact on trucking operations for many years to come.
The widespread adoption of technology solutions to reduce physical contact between stakeholders has emerged as one of the pandemic's leading effects. 
Electronic bills of lading, payments, and virtual communications between trucking salespeople and vendors/manufacturers, also known as "contactless" and "paperless" technologies, have served to protect truckers and end-users from the spread of infection.
For Excellent Commercial Truck Insurance, Contact SoCal Truck Insurance Today
Does your business need assistance in locating cost-effective insurance for your commercial trucking fleet?
At SoCal Truck Insurance, we understand the high demands of your commercial trucking company, which is why we've created a number of dependable insurance packages that are tailored to your company's specific needs. 
We are dedicated to providing customers like you with the most competitive and personalized commercial truck insurance quotes available, based on our more than 25 years of experience.
Give us a call at SoCal Truck Insurance for a free commercial truck insurance quote today.