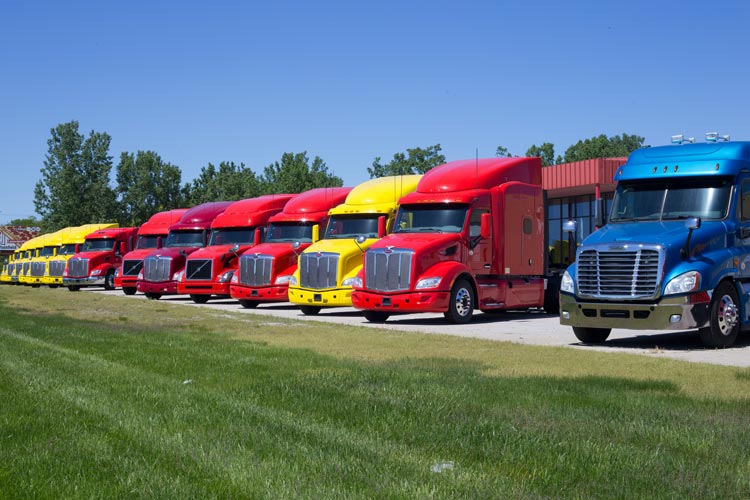 Technical Innovations to Expect for the Trucking Industry in 2021 
When looking for commercial insurance for truckers, you should also consider the future of the trucking industry. With technical innovations coming out every year to help improve the efficiency of trucking and the safety of truckers, there's a lot to expect and hope for in the year 2021. 
Trucking Industry 2021
The use of technology isn't slowing down, and neither should the trucking industry. Here are some of the technological innovations to expect for the trucking industry in 2021. 
Truck Insurance Technology
Automated trucks have been around for a few years now. However, they haven't been widely used for a number of reasons. Firstly, this technical advancement came before many insurance companies were prepared to deal with it, and the same is true for trucking companies and truck drivers. 
Companies have already begun testing driverless trucks, and the technology is likely to bring more profits. However, many are concerned that it could cost truckers their jobs. When many people think of autonomous vehicles, they think of a vehicle that drives itself with no living person inside. 
However, driverless trucks are not a likely outcome of automated trucking for quite some time. For now, truckers will still be necessary to make sure the technology works the way it does and perform maintenance on the road.
While automation inside the vehicle can help inform a trucker about potential problems, it's still up to the trucker to take care of their vehicle and ensure their safety on the road.
These processes on the road will also help keep commercial trucking insurance low because it ensures safety. 
Artificial Intelligence 
While most people think of truckers driving long hours in heavy machinery when they think about the trucking industry, there's actually a lot of work that goes on behind the scenes.
The logistics side of the trucking industry has been using technical innovations for years, including artificial intelligence (AI), for route planning. The use of artificial intelligence is expected to continue and even grow as last-mile delivery robots and automated picking systems, alongside predictive optimization software, provide solutions to efficiency problems.
Shippers, carriers, suppliers, and even consumers will all benefit from these emerging logistics trends throughout the years to come. 
Augmented intelligence will also play a huge role in logistics. It is the use of human intelligence and AI together and is often better than AI alone because it combines the human element with technological advances, including customer service and common sense — AI simply does repetitive work. 
Augmented intelligence will provide the trucking industry with more efficiency and help workers become more productive in 2021, ultimately allowing logistics professionals to do their jobs with fewer mistakes while saving money. 
Advanced-Data and Analytics
What many people outside of the trucking industry fail to understand is that data is used every day — from preventative maintenance to the information truckers receive while en route, data is an important part of a trucker's day-to-day.
Trucking companies store data one way or another, and often that data can get lost in the expanse of too much data, causing inefficiencies in an effort to further digitize logistical operations. 
As methods for analyzing and storing data innovate, new industry standards will be set so that there will no longer be inefficiencies. For example, data can be used to predict maintenance schedules. 
Even though trucking companies already have set preventative service intervals in place, some trucks may need to be serviced more often. Data will allow the fleet manager to predict when such needs occur by collecting data from the trucks.
These patterns will allow professionals to revisit their systems and provide their business and its customers with improved efficiency. 
Having better data about trucks, fleet managers can prevent accidents from occurring on the road, improving the safety of truck drivers and other drivers on the road. Such data can help keep commercial insurance for trucks rates even lower. 
Sustainability and Electric Trucks
The trend of sustainability has cut across almost all industries, and the trucking and logistics industry is no exception.
For example, last-mile delivery is time-consuming, which prevents many trucking companies from being able to implement plans effectively. Trucks are the last thing you think of when you think about sustainability and preserving the environment.
However, our economy cannot function without the trucking industry and to lessen the environmental impact of the trucking industry, companies use technology like electric vehicles and AI software that calculate routes with the lowest emissions generated. 
For example, Tesla Semis may prove to be an effective solution to the concern of climate change by helping reduce the carbon footprint of the trucking industry that our economy relies so heavily upon.
Warehouse Robotics
Warehouse robotics allows for quicker logistical operations within the warehouse, which directly impacts the efficiency of a truck. It allows trucks to pick up and unload quicker than ever before so that the total efficiency of the process can be improved. 
Warehouse operations directly affect the trucking industry because truckers must pick up and drop off from warehouse to warehouse in a certain time frame in order to make it to their next location for delivery. 
Warehouse robotics can unload trucks, build pallets, and move boxes through a facility more efficiently than their human counterparts.
In other words, improving the efficiency of the warehouse processes improves the efficiency of the trucking processes. There are already autonomous robots working in these facilities and we can only expect more of them to be used in 2021. 
New Technology in the Trucking Industry
Increasing technical innovations will continue to positively impact all industries, especially the trucking industry and all aspects of logistics and the supply chain.
These technologies will continue to evolve faster than ever while new solutions are born every day that can be used to improve the efficiency of the trucking industry and improve safety. Trucking companies must either adapt or fall behind with much pressure coming from customers demanding faster deliveries at cheaper rates. 
There's much to consider going forward for the trucking industry, and fleet managers and owner-operators must stay ahead of the competition by investing in the technology that can help them advance through 2021 and beyond. 
Choose Cheap Commercial Truck Insurance
Along with the technical innovations for the trucking industry, it is also crucial to invest in commercial truck insurance that covers and protects your fleet.
If you want more information about industry trends, visit our article about trends to transform the trucking industry in 2021.
If you're looking for cheap truck insurance quotes, contact our team at SoCal Truck Insurance today!