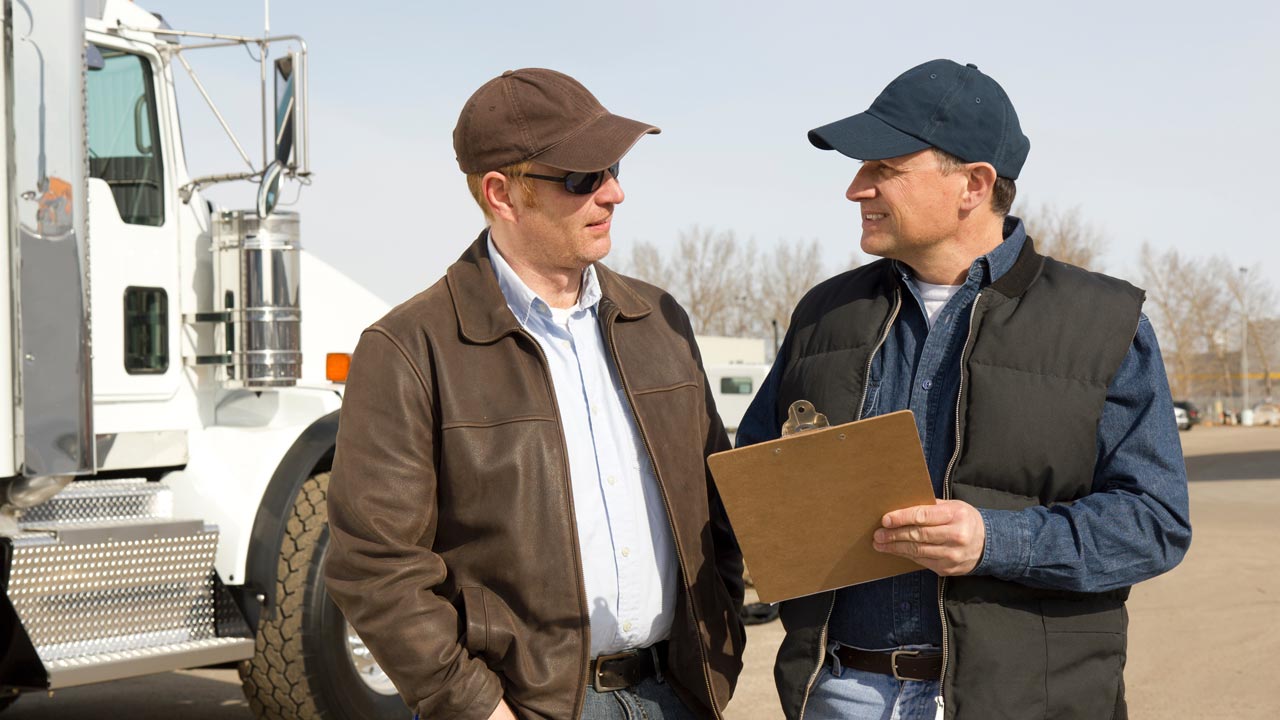 Federal Filings for Truckers in the US Explained
Once you've found cheap truck insurance that matches your business needs, such as from SoCal Truck Insurance, it's time to file for proof of financial responsibility. This document ensures the government that you've obtained liability insurance which protects individuals involved in accidents that you are legally responsible for, whether or not your trucking insurance is sufficient. This is what is typically referred to as federal liability filing.
Filing is currently under the Unified Carrier Registration program (UCR). This new interstate agreement controls the collection and allocation of payments and company UCR registration data pulled from the UCR Query Form. This process includes both federal filings for truckers and state filings for truckers.
Understand the Importance of Federal Filings For Truckers
Commercial trucks are large, heavy vehicles that could cause significant damage to people and property; commercial truck insurance filing is a must. If you're not familiar with what are federal filings for truckers, rest assured that licensed insurance agents can help you. You just need to purchase your commercial auto insurance premiums, and they can handle the rest, including both federal and state filings for truckers. If you have any other questions, your auto insurance provider can answer them in depth.
Motor carrier filings form a part of the types of filings below:
The kind of vehicle that you drive
The kind of businesses that you run
The sort of cargo you want to transport
The travel destination
Cheapest State for commercial truck insurance
Similar to how there are different types of trucking insurance, filing at state and federal transportation departments is not the same. Below are their differences.
Federal Commercial Trucking Filing
A federal filing is mainly required for companies that cross state boundaries, transport hazardous material, or operate in for-hire passenger or cargo transportation. An example is the BMC-91 filing which must be submitted to the Federal Motor Carrier Safety Administration (FMCSA) as proof that the trucking business has adequate commercial auto insurance to cover additional risks when traveling interstate.
When covered by several policies, a BMC-91X is required. Other than companies that travel intrastate, manufacturers and private carriers of their own farming or retail goods are exempted from federal registrations.
State Commercial Trucking Filing
Businesses that keep their operations interstate require this type of filing for their state unless that state doesn't require it. As of this writing, there are nine states that do not require this type of filing. These include Hawaii, Maryland, New Jersey, Florida, Nevada, Wyoming, Oregon, Pennsylvania, and Vermont.
To make the process of paying various state fees easier, truckers can opt to submit their financial responsibility information and registration fee to a single state through the UCR program. For other ways to simplify the process, companies may also ask their auto insurance provider for an interstate transportation liability program.
Secure Your Commercial Truck Insurance Filing Requirements
Before filing your liability and cargo insurance forms, you must first acquire several documents required by the Federal Motor Carrier Safety Administration (FMCA). Please remember that the FMCA does not furnish insurance forms.
These requirements must be submitted online directly from the home office of the insurance company that furnished the business's insurance. Find a list of these pre-registration documents below, along with information on who is required to submit them.
BMC-91/BMC-91X –

For motor carriers and freight forwarders; non-vehicle operating freight forwarders may seek a waiver of this requirement

BMC-34/BMC-83

– For motor carriers and freight forwarders carrying household goods

BMC-84/BMC-85

– For freight forwarders and freight brokers

BOC-3 –

All authorities

MCS-90 –

Carriers of hazmat safety permits
Know Where and How to File Your Insurance Forms
Once applicants obtain their designated docket number, they can contact their truck insurance issuance agents to file the forms. This should be done within 90 days after the FMCSA registers the public notice of intention to register. They must then wait for the notification letter regarding their docket number and publication in the FMCSA Register.
The business name and address found on all pre-registration documents must match with the operating authority filings, or else the pre-registration filings may be rejected.
Insurance companies filing BMC-91,91X, 34, and 84 online need to open a filer account with FMCSA, and must email the Insurance Team at [email protected].
Ensure All Your Commercial Trucking Vehicles Are Covered
We offer affordable truck insurance for various vehicle types to ensure you always get the job done. Below is the list of the vehicle types that we provide trucking insurance coverage for.
Tow Trucks
Tow trucks transfer vehicles that are disabled seized, parked in an illegal spot, or out of service. They're distinguished by the mechanism they use to move vehicles.
Box Trucks
Also known as a cube truck, it features a cube or box-shaped cargo space with doors that open like garage doors. They're mostly for items like appliances and furniture.
Dump Trucks
Similar to garbage trucks, dump trucks can also haul trash. They may also be used to transport different kinds of material such as soil, rocks, and other types of debris.
Vans
Vans are available in a wide range of styles and sizes and may be used for various purposes. Extremely flexible, they can transport gear, passengers, and more.
Roll Off Trucks
These trucks are easily recognizable by their large dumpster-like appearance. Operated mostly by construction teams, demolition crews, and clean-out crews, their size and shape make them perfect for large-scale disposal.
Bobtail Trucks
A bobtail truck is a tractor without a trailer. When drivers drive cargo-carrying trucks without trailers, it's called "bobtailing." They're usually used when starting/ending shifts during the first/last load.
Tank Trucks
Tank trucks can carry large amounts and wide varieties of liquid and gas. Because of that, they're distinctly huge. They're often insulated or pressurized, and can carry multiple or single loads.
Determine the Right Coverage for Your Business Needs
Even with all the commercial truck insurance policies available, it might be difficult to pick the right truck insurance for you. Vehicle type, load transported, and distance traveled are all factors that should be considered before making that decision.
Once you get the right policy for you, you can protect yourself from:
Injury and physical damage to your trucks
Injury and damage of property damage to others
Drivers that are uninsured or underinsured
Loss due to fire, theft, upset, overturn, and vandalism
Loss of customer cargo
Accidents while loading and unloading cargo
Injuries and damages indirectly related to truck operation
Accidents not covered by workers' compensation
Damage to others' trailer
Injuries and damages incurred during personal truck use
Loss or damage while in storage, packaging, and more
Vehicle breakdowns and malfunctions
Pollution liabilities, rehabilitation, and contamination.
Hazmat claims unrelated to trucking, wrongful delivery
Loss of a vehicle with gaps in loan or lease
Costs for a collision of rental trucks and trailers
Damages while towing vehicles
Injuries and damages in the middle of business operations in the garage
Protect Your Business with Comprehensive Insurance Policies
For the last 20 years, SoCal Truck Insurance has been protecting people, their vehicles, and their businesses. We've insured innumerable clients with 24/7 availability, tailor-fit services, and policies that won't break the bank. For reliable commercial truck insurance in California, check out our services today!
Frequently Asked Questions
Are commercial trucks expensive to insure?
It depends on what type of commercial truck insurance you're getting. For example, trucking liability insurance can cost around $2,500 to $4,000, which covers about $750,000 per driver. Non-trucking liability, on the other hand, can cost anywhere from $450 to $5,000 with a quarter of a million worth of coverage.
Which insurance is best for commercial trucks?
It varies from truck to truck. When looking for truck insurance companies, some important factors to consider are price, availability, consumer satisfaction, and coverage options.
What state has the cheapest insurance for commercial trucks?
If you're looking for cheap truck insurance from a commercial trucking insurance company, your best bet is in Mississippi. You may be able to find rates that are four times lower compared to other states.
What does "federal filings for truckers" mean and when does a trucking business require one?
Federal filings for truckers are forms of proof submitted to the Federal Motor Carrier Safety Administration (FMCSA) that validates a trucking company's ability to cover its liability insurance. Trucking businesses require these filings primarily when they operate across state lines, transport federally regulated commodities, or when they perform for-hire trucking under a contract. At SoCal Truck Insurance, we provide comprehensive coverage that meets federal filing requirements and assists truckers in this critical process.
How does the process of state filings differ from federal filings for truckers?
While federal filings cater to trucking operations that cross state lines, state filings focus on trucking activities within a single state. Each state has its specific truck filings requirement, and it may include a certificate or endorsement to your license that signifies your compliance. In case of a lapse in insurance, a state may require a restoration filing to reestablish your trucking authority. SoCal Truck Insurance ensures that you remain compliant with both federal and state filings, safeguarding your business across various jurisdictions.
As you navigate federal filings as a trucker, don't forget to consider how you can save on taxes. Check out our tips in 'Trucker Taxes for 2022' to ensure you're making the most out of your financial planning. Start strategizing your savings today.