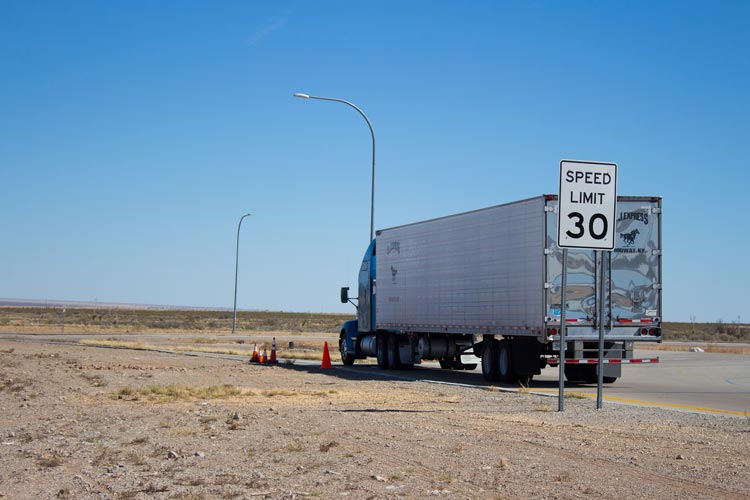 10 Tips for Surviving Life on the Road as a Commercial Truck Driver
Starting a new career is a nerve-racking experience without tips, no matter what industry you're in. When it comes to truck driving, also knowing what to expect will help you get through your first few years as a commercial truck driver and avoid constantly thinking about a potential commercial truck insurance.
Commercial truck driving is not just a job, it's a lifestyle, and no one will really know what it's like to be a trucker until they get behind the wheel to travel. While you may have heard a lot of things about what it's like in your own car, there's nothing quite like experiencing it in real life.
Here are a few tips to help you survive life on the road as a commercial truck driver.
Tips for Surviving Life as a Commercial Truck Driver
1. Stick to a Healthy Diet
It may be hard to eat healthy when all the truck stops near you offer unhealthy food choices, but that doesn't mean it's impossible. Find several restaurants with a good price to visit that aren't too far out of the way instead of dining at the truck stops.
Not only are you going to eat great and nutritious food, but you'll even get some great exercise while you're at it (and an excuse to step out of the car). You may even start to notice how much you needed the exercise!
2. Exercise Daily
Continuing from the previous point, you will also need to find time in between traveling to focus on your body to survive living on the road and not let it overwhelm you. Exercise not only helps the mind remain alert and awake, but it even gives you the stamina you need to be able to travel long shifts on the road and away from home.
As you already know, every truck driver needs to take at least a 10-hour break before their next shift. Getting some exercise during this break stretches your body out after being in a small space while also increasing your stamina for when you do have to travel again.
3. Gain Experience
Your first time driving a commercial truck can be a little discouraging. However, there's no reason to overthink it: it's going to get better over time.
Regardless of your experience driving a car, your initial few routes will most likely be challenging. This is because you're new to the industry, but it's crucial to keep going because over time on the road, you will gain more experience and feel more relaxed behind the wheel, which will, in turn, lead to more routes and more income.
4. Plan for Challenging Routes
Since truck drivers who have been driving for a company for years normally get the initial dibs on assignments, that means the rookies get the leftovers. When you're initially starting out, you're likely going to get jobs in desolate areas and big cities where delivering can be a challenge.
It's not until you build up a strong reputation by sticking to your delivery schedule and remaining with the company for a while that you're going to be able to start getting a say in what assignments you receive. Until then, accounting for challenging travel can make things easier to deal with.
5. Stay Safe and Avoid Accidents
Of course, the most important tip for new truck drivers is to do your best to keep safe while on a road trip. Health and safety should always be at the forefront of your mind when you're behind the wheel of a commercial truck.
Staying safe means packing things on your truck that you can use to ensure your safety while you travel, such as a first-aid kit.
Staying alert is important, too, so make sure you're still well-rested and always mentally ready for long journeys away from home.
6. Pace Yourself
While it might be tempting to start working on high-mileage jobs with a quick turnaround, rookie truckers need to remember that they haven't fully adapted to life on the road yet.
It takes time to be a veteran truck driver. Not only does it take time to make up the mental and physical stamina of long travel hours away from home, but it even takes an extended period of time to improve your time management skills.
7. Ask Plenty of Questions
When starting out, don't just sit back and expect everything to be told to you along the way. If you're learning to do it yourself, and you're just starting to understand the full extent of what this work entails, you should have questions running through your mind all the time.
Keep seeking to learn more and appreciate the finer points of this work by asking a lot of questions, whether it's about travel packing tips or how to interact with the people you meet on the road.
8. Be Independent
While it's important to ask a lot of questions, one of the easiest ways to make a living as a truck driver is to try to do as much of it yourself as you can.
Whether you're doing pre-trip checks, planning your trip schedule, or collecting your payroll details, try doing as much of it as you can without any help. Use every opportunity on the road as a way to think critically and act on what your mentors would do in a given situation.
9. Get Used to Being Alone
Most of your time is spent alone with life on the road, and since you don't have anyone in your cab to count on, it's crucial for a truck driver to become proactive.
It's one thing to be independent, but it's another thing entirely to be good with your company for days and weeks on end. It isn't easy to be without friends (or just other people in general) for long periods of time, and it's normal to want some company. Being okay with solitude is therefore an important skill to keep up.
10. Be Patient with Yourself
You will likely make a lot of mistakes during your time on the road, and at times it might make you feel like you're never going to get the hang of the job. Relax and be patient with yourself. You're going to get it, but it takes lots of trial and error to get your job right.
Frequently Asked Questions:
What is the importance of diet and exercise for a commercial truck driver?
Maintaining a healthy diet and exercising regularly can help truck drivers stay alert, increase stamina for long shifts, and provide a much-needed break from sitting.
How does experience influence a truck driver's career?
Experience gained over time helps drivers become more comfortable and efficient on the road, leading to more routes and potential income.
What should a new truck driver prepare for in terms of routes?
New drivers often start with challenging routes, including desolate areas and big cities. Being prepared for such assignments helps them cope and build a strong reputation.
What measures can truck drivers take to ensure their safety on the road?
Truck drivers can enhance safety by staying well-rested, packing essential items like a first-aid kit, and maintaining high levels of alertness during their journeys.
Why is patience and independence crucial for a commercial truck driver?
Patience allows truck drivers to learn from mistakes and improve over time, while independence is key in managing the solitary and proactive nature of truck driving.
Contact SoCal Truck Insurance Today
If you're looking for inexpensive commercial trucking insurance, SoCal Truck Insurance may be able to help.
At SoCal Truck Insurance, we understand that every trucking company is unique and may need specialized insurance to make sure that their company is covered. That's why we are committed to providing our customers with the most competitive and personalized insurance plans on trucks on the market. With more than 25 years of experience in the commercial truck insurance industry, you can be confident that we will always be there for your company's needs.
We provide the lowest prices on commercial truck insurance and proudly offer personalized packages to keep all your trucking insurance needs in one safe spot. When you partner with us, you can be assured that you're having the best commercial truck insurance at the best possible cost.
If you need tips on how to prevent accidents while on the road, visit our comprehensive guide about the best practices for reducing risks on the road.
Don't wait, contact SoCal Truck Insurance today for a free commercial truck insurance quote.