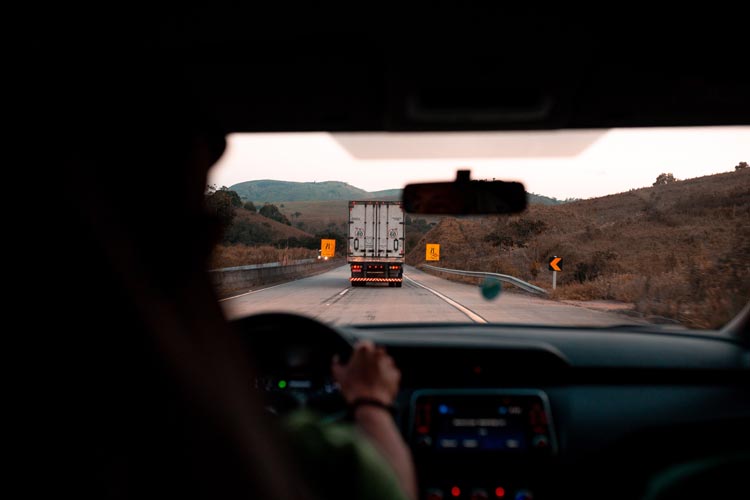 What is Permit Number for Vehicle and Where to Find It?
If you're a commercial driver or you own a trucking business in California, it is essential to have high-quality but commercial truck insurance for your business. Additionally, you may be required to have and display a California Motor Vehicle Permit Number, also known as a CA Number.
What You Need to Know About CA Numbers
What Exactly is a Motor Vehicle Permit Number?
If you've seen California trucks on the road, you may have noticed the numbers on their doors. These numbers are part of a motor carrier permit issued by the DMV.
The permit and accompanying numbers are proof that the vehicle has met all of the statutory requirements to operate on California highways. Your permit contains information unique to your truck and business, including name, mailing address, dates of the permit, etc.
The CA Number should appear on the lower area of your cab doors with high contrast lettering and people should be able to read your CA number from at least 50 feet away.
Typically, your company's official name will appear along with the CA number. 
Who Needs a CA Number?
There are two main instances when a truck requires a CA Number:
When a person or business is paid to transport property in their vehicle. It doesn't matter how big or how much the vehicle weighs. If you transport property for a payment, you are considered a for-hire motor carrier, and you're required to have a CA number. 
Any person or business that operates a truck with a gross vehicle weight rating of 10,001 pounds or more. These drivers are considered private motor carriers. They are required to register with the DMV, even if they use the vehicle for private purposes. 
Who Does Not Need a CA Number?
Unlike having commercial trucking insurance in California, CA numbers are not required for every driver.
Here are some examples of vehicles that don't need to be registered:
Vehicles that operate under the authority of the Public Utilities Commission — these vehicles are operated by household goods and or passenger carries as defined in the Public Utility Code 5109. 
Vehicles operated by household goods carriers to deliver or transport used office, store, and institutional furniture and fixtures when operated under the appropriate permit. 
Pickup trucks having a gross vehicle weight rating of less than 11,500 pounds, tare weight of less than 8,001 pounds or equipped with a box-type bed not exceeding nine feet. The truck must also not be in use for commercial purposes. 
Utility trailers, campers, or trailer coaches. 
Vehicles that provide passenger or baggage transportation only. 
Vehicles under 10,000 pounds that are used only for personal transportation. 
Two-axle daily rental trucks that weigh less than 26,001 pounds when used non-commercially. 
Any vehicle that is exempt from vehicle registration fees. 
Where is the permit number located?
A permit and CA number are required before vehicles can be operated in California. Just like how commercial trucking insurance in California is required before a vehicle hits the road, you'll want to have your CA number before you start a business. The permit is good for a full year. 
To get your CA number, you must supply several documents to the DMV:
A completed application form: DMV 706 MCP
Proof of financial responsibility: DMV 65 MCP
Proof of workers' compensation insurance or a signed exemption
A valid requestor code issued by the Employer Pull Notice (EPN) program if you drive with commercial class A, B, or C driver license with a hazardous materials endorsement. 
A carrier identification number issued by the California Highway Patrol. 

This number requires filling out a Motor Carrier Profile (form CHP 362) and getting it to your nearest CHP Motor Carrier Safety Unit. 

Payment of associated fees
Unfortunately, you cannot apply for a CA number and permit at your local DMV office. All of the paperwork has to go through the DMV headquarters in Sacramento.
You can send your paperwork to the following address:
Department of Motor Vehicles
Motor Carrier Services Branch
Motor Carrier Permit Operations
PO. Box 932370 – MS G875, Sacramento, CA 94232-3700
Overnight delivery: 
Department of Motor Vehicles
Motor Carrier Services Branch
Motor Carrier Permit Operations
2415 1st Avenue – MS G875, Sacramento, CA 95818
If you're in the Sacramento area, you can drop off your paperwork in their motor carrier permit dropbox:
Department of Motor Vehicles – Building West Lobby
2570 24th Street., Sacramento, CA 95818 
Commercial Trucking Insurance: California Requirements
The level of liability insurance you'll need can range from $300,000 to $5,000,000 depending on the type of vehicles you operate and the kind of property being transported. You must provide proof of insurance to obtain your permit. 
Traveling with only liability insurance may help you meet the state's minimum requirements, but it leaves your company in a considerable position of risk. 
The best way to make sure that you're getting cheap commercial truck insurance is to get quotes from multiple companies. 
Of course, you need to be certain that you're comparing similar types of coverage. One company may have a lower price, but require a higher deductible or not include elements of coverage offered somewhere else. 
Read more: Ways to Lessen Your Truck Insurance Premium
Choose the Right Commercial Truck Insurance Company
Quality coverage is more than just finding commercial truck insurance. You also need to consider the kind of service you can expect and the company's history, reputation, and understanding of your industry.
An exceptional insurance carrier that knows the trucking industry can even offer advice on getting your CA number. 
Luckily, SoCal Truck Insurance has a long-standing history of helping truckers and trucking companies get the right kind of commercial trucking insurance they need without paying for unnecessary extras.
If you're shopping around or are ready to make a change, give us a call to get your free quote today.